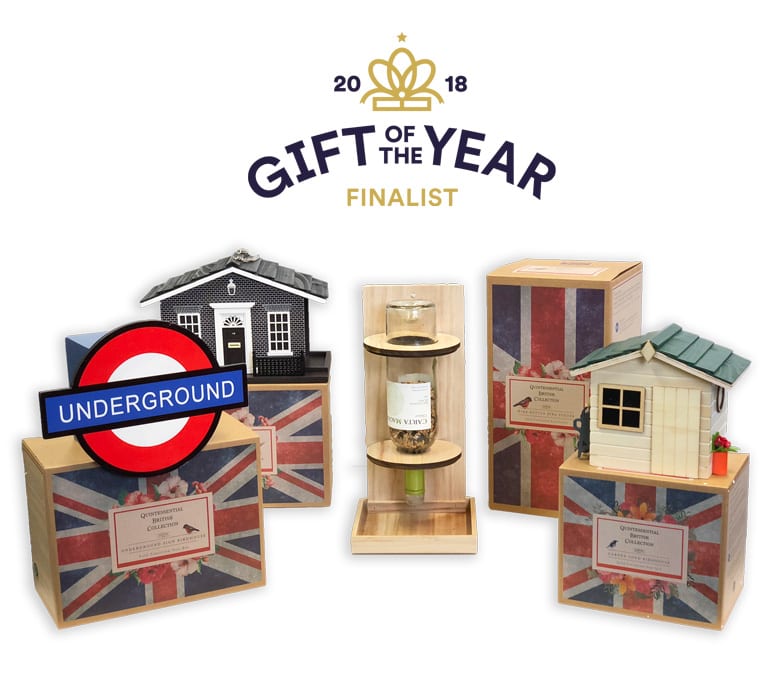 Politics, tourism and wine: Deco-Pak ticks all the boxes
Deco-Pak's new 'Quintessentially British' range of birdhouses and feeders feature four daring designs – a garden shed, a London Underground sign, a wine rack and a mini mockup of number 10 Downing Street.
Now available to view on Deco-Pak's website, this new for 2018 range has already been nominated for best Garden & Outdoor product at Spring Fair (NEC, 4th-8th February). The new additions are expected to be popular with those looking for gifts, collectors of quirky garden designs and fans of the original range, which continues to grow in popularity.   For example, the Red Lion Inn was most recently featured in the Sun's gardening pages at the end of January to mark National Nestbox Week (14th – 21st February).
On the subject of a possible boost for garden centre tourism, Deco-Pak Director Rod Slater said: "Our partnership with US wild birdcare designer Garden Bazaar gives us a unique insight into what visitors want to see and buy. With 41.7m tourists set to visit here next year, after a record year for UK regions and nations outside of London, we know our customers will be interested in a slice of the pie. These birdhouses and feeders will, of course, be available to all of our customers in Europe and further afield, where we expect them to do well thanks to the value of the pound and a recent surge in popularity of the UK as a holiday destination."
Birdhouses and Feeders
10 Downing Street feeder
Watch birds protest to the ministers of birdfeed with this tourist favourite. Features include window frame detail, shingled roof and chain for hanging. RRP £29.99
London Underground Nestbox
Another distinctive British Handmade from FSC plywood with access hatch. RRP £16.99
Garden Shed Nestboxes
Includes miniature details such as a wheelbarrow, spade, fork, terracotta pot and plant. There is a 32mm hole to allow smaller desirable birds, such as tits and house sparrows – deterring larger, predatory birds. RRP £19.99
Wine bottle feeder
With sparkling wine sales up 76% in the last five years, Deco-Pak has latched onto another trend and devised a great way of reusing empty bottles. The product features two rings made of exterior grade plywood and is able to incorporate a wine bottle (purchased and drunk separately) that can be filled with any type of birdseed. Simply upturn and let gravity do the work as the contents are drip-fed as birds peck away at the bottom. RRP £19.99
For the full list of finalists click here: https://www.giftoftheyear.co.uk/article.aspx?a=100020
RSPB State of the UK's birds 2017: https://www.bto.org/research-data-services/publications/state-uk-birds/2017/state-uk-birds-2017
VisitBritain forecasts for 2018: https://www.visitbritain.org/tourists-uk-forecast-spend-record-level-2018
A boom in UK wine sales: http://www.decanter.com/wine-news/uk-sparkling-wine-sales-grow-76-in-five-years-377784/
About Deco-Pak
Deco-Pak is a supplier of decorative aggregates, paving, growing media, birdhouses, insect hotels, water features and statuary, specialising in creating unique point of sale displays, contemporary heritage-style packaging and hands-on customer service. The family-run company distributes all over the UK from their base in West Yorkshire, serving independent garden centres and national retail chains alike.