Low-maintenance Gardening
In cold weather, we may spend less time in our gardens, and it is far too cold to be digging around… therefore, we need low-maintenance gardens that look fabulous all year round! These evergreen plants can bring colour into your garden with very little effort. Once these plants are established, all you have to do is put your feet up and enjoy your garden.
Pictured below: Plum Slate 10mm and Lavender
Manageable plants that go together
This selection of low-maintenance plants goes together beautifully and can help bring a bit of colour to your garden in those monotonous grey winter months. Complete the look with our Plum Slate- looks fab with heather and Lavender 
Conifers are evergreen plants- meaning they will retain their leaves, providing greenery, all year long. Conifers are also well-known for being a low-maintenance gardening choice. They are a great choice when it comes to providing shade and privacy- making them a popular choice for hedges. A good choice for hedging would be Leylandii as it grows the quickest, other varieties that are perfect for a formal display include Chamaecy of Paris, Pine, Juniper etc. Conifers can be planted at any time of the year, provided the ground isn't frozen or waterlogged. Conifers are great for the ecosystem too- as some birds will only nest in specific conifer trees.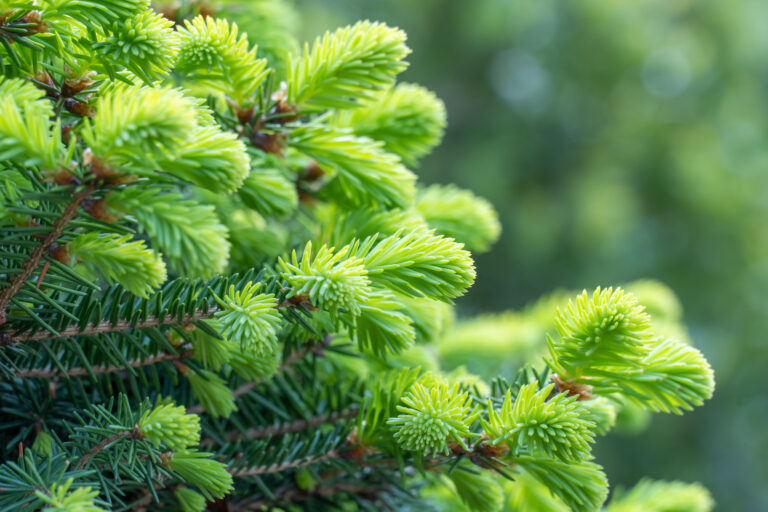 Heather has inspired many poets and writers for centuries- including Emily Bronte, these plants feature naturally in UK moorlands, they feature tiny flowers exuding beautiful hues of pink and purple, all year round. They are a type of shrub, with flower spiking at different times of the year, depending on the species. Although, newly planted Heathers require lots of watering for the first year, after that they are an extremely low-maintenance gardening choice.; they are drought tolerant and have very few pests on them. Heather does well in rocky and sandy zones- making them a very versatile choice. Popular types of heather include Ericas and Callunas.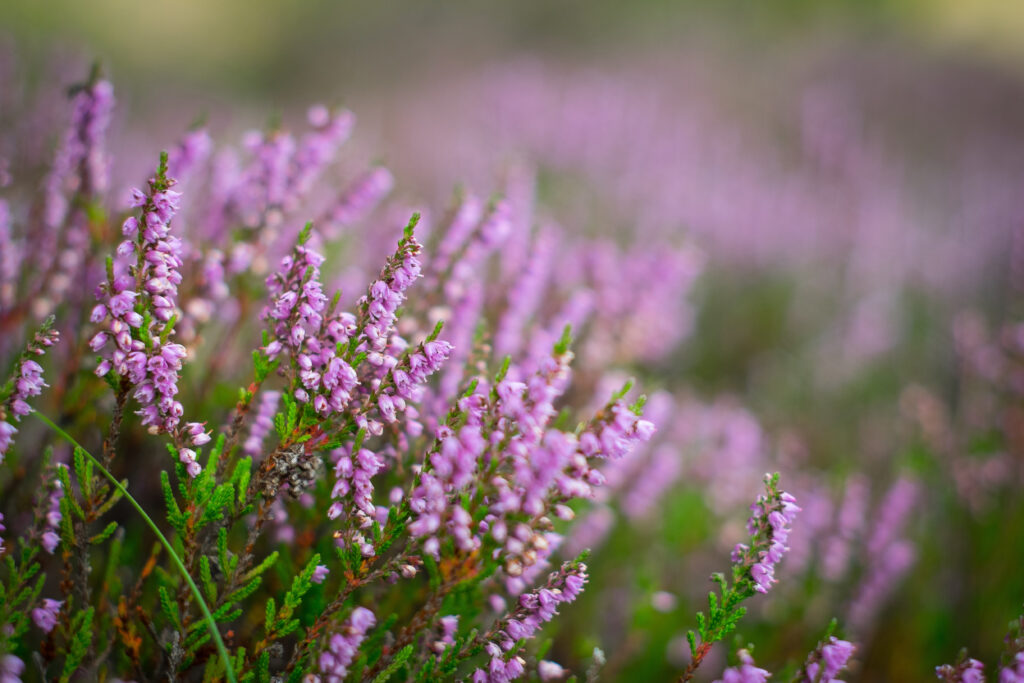 EXPERT TIPS FROM A HORTICULTURIST
Alpine plants are a vast variety, with 100s to choose from, and they are low maintenance. A top tip for alpines is to add gritty sand to the soil, as these plants like to be well-drained. Our Chelsea Range Sharp Sand is perfect to achieve this and grow happy plants!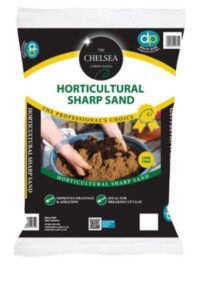 There are few feelings as satisfying, as using your home-grown herbs for cooking. They have been used for centuries for cooking and preserving food. They are great to use in teas, beers, liquors, soft drinks, curing meats, cooking oils, or even aromatherapy. We have compiled a list of evergreen herbs, which you can appreciate all year round (whilst also welcoming minimal effort).
Rosemary is usually propagated with cuttings as it is tricky to get evergreen rosemary seeds to germinate. It is best to plant your cuttings in Autumn, although frost, cold, and waterlogging can kill immature plants, however once planted, and matured, they are incredibly low maintenance. Cutting buds after flowering prevents it from becoming saggy and woody, but you can then reuse cuttings, and pruning it can lead to a bushier plant. One in bloom, rosemary provides nectar-rich flowers for the bees to enjoy., and the fragrant leaves are aromatic and can be used in a variety of dishes.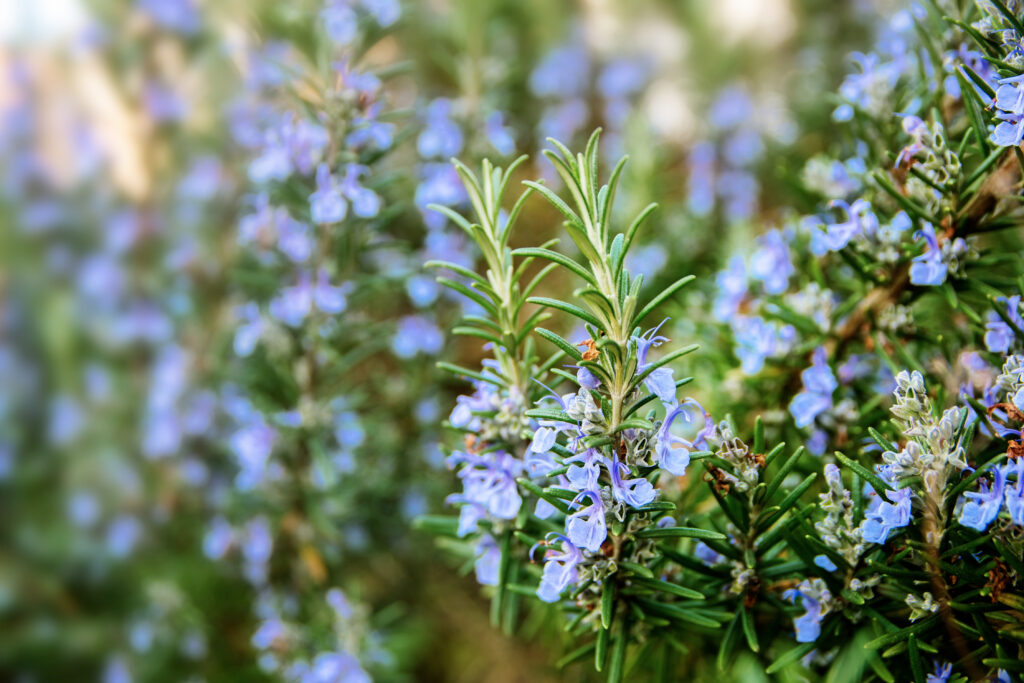 Known for its beautiful, relaxing aroma, and rich purple colouring. It is worth noting that French and Tender lavender is less hardy in winter, but English Lavender is very hardy and are a low-maintenance gardening choice when matured. It is best planted in April or May as the soil naturally warms up. It requires regular watering over the first year, but after that, you only need to water it in severe drought conditions. Lavender grows well in containers, borders, and herb gardens. It is also a magnet for bees in the garden, increasing biodiversity
Is a great option as once established they require very little water, and they can thrive in almost drought-like conditions. it is recommended to cut back the thyme after flowering to promote new growth. Some varieties work well in gravel gardens, cracks, paving, or as an alternative to a lawn. Planting thyme in the full sun brings the essential oils to the surface, providing a rich aroma.
There are over 2,000 species of carex, commonly known as sedges. Textures and colours are widely diverse, meaning you can get lots of different aesthetics, looks and feels from the plant. While frequently thriving in well-drained and fertile soil, many do well in poorly drained and less hospitable areas, when choosing a low-maintenance carex plant, it is important to consider the light and moisture needs of the specific species.
Low-up keep Flowering Plants
The way this plant protects itself from harsh winters is fascinating: they curl their leaves, allowing them to hang down, protecting them from any damage! Their roots also work hard during winter by forming intricate roots, even in the coldest of winters. As it can root more shallowly than other plants, it is ideal to keep a thick layer of mulch over this system
(Our Wood Chippings and seashells provide an organic, eco-friendly way to cost-effectively protect the plant).
Watch out got long, dry winters though, if the soil is frozen, it is important to water them.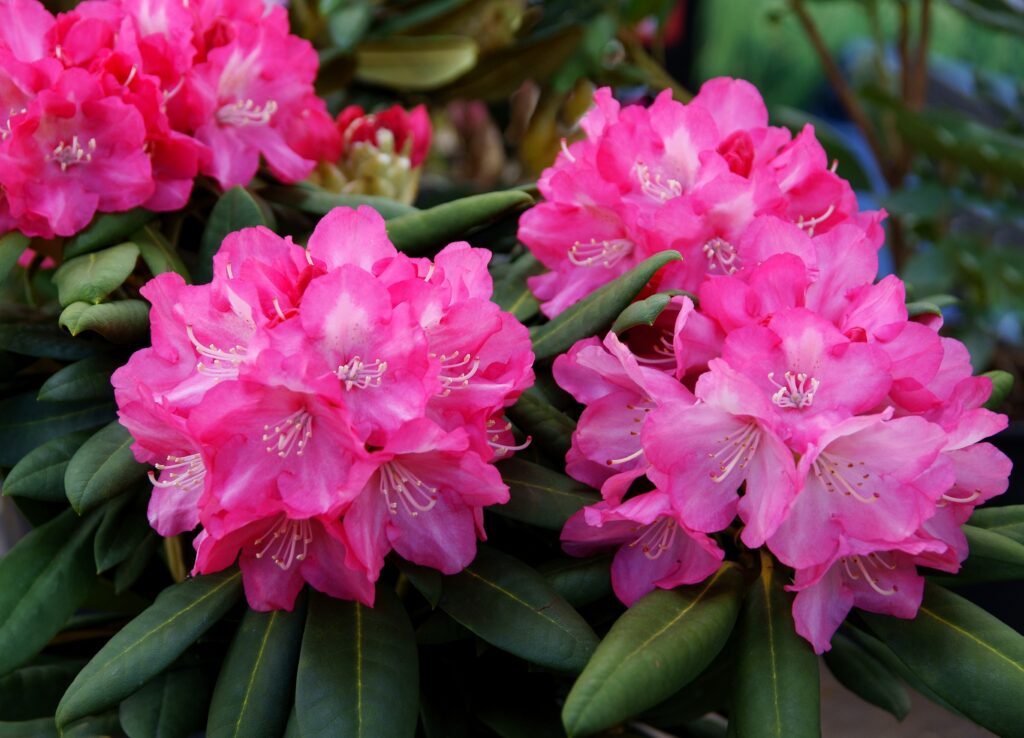 These beautiful flowers are available in a wide range of colours. They bloom during spring and last to Autumn. They only require watering just after you have planted them- securing them as a 
Low-maintenance plant!
 Azaleas frequently feature in bouquets, home décor, and landscaping, as well as making particularly stunning bonsai trees.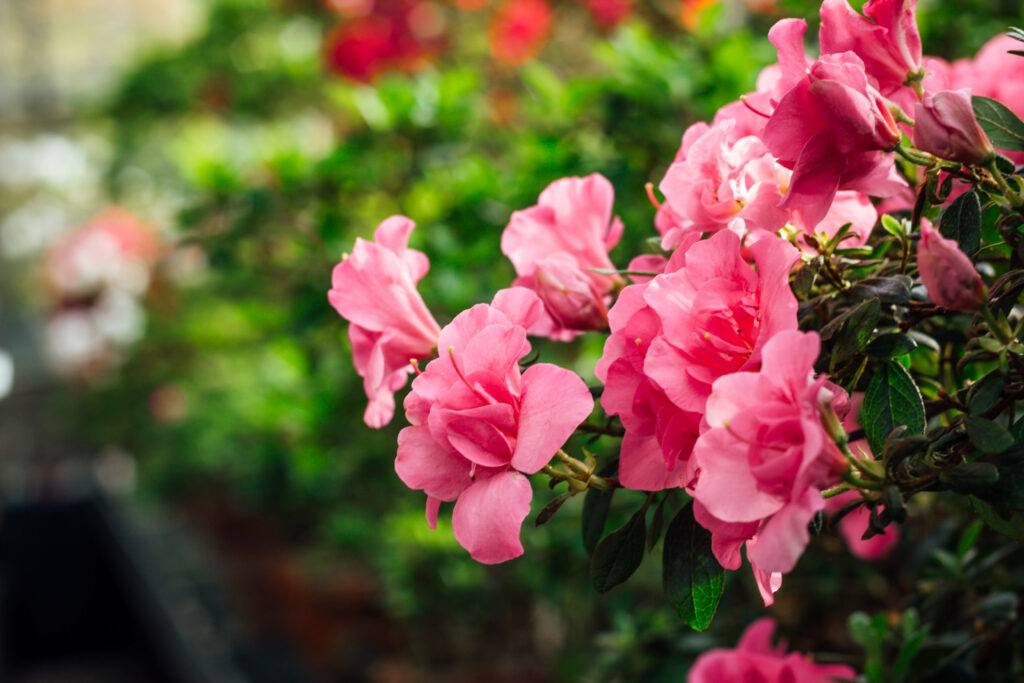 Pansies grow well in partial shade, even in winter, you can yield a display. One thing to be aware of though is that if you plant these beauties too late on in the year then they may not survive a harsh winter as they will have less time to expand their roots. A top tip for winter pansies- to lengthen their growing periods- pinch out the flower heads that have finished blooming to ensure nutrients aren't wasted. These removed heads will grow new buds providing you with more flowers. Pansies with both hot and cold tolerances include:
maxim
Rococo
Yesterday, today, and tomorrow
Springtime
Majestic giant
Lyric